Around The Town Of Llandeilo
Leaving your car at The Plough, take a right hand out of the hotel, along the footpath. The walk takes in St Teilo's Church, Dinefwr Estate, Newton House and Tregyb Wood Nature Reserve. 
After a hearty Plough Welsh breakfast, what better than getting to know the area a little better. There are some great walks which you can take from the Plough, leaving your car behind! The walk information below shows short walks of between 1.5 - 2.5 km and a longer walk of approximately 4.5 hours, so the choice is yours.
You can pre plan your walk and get a feel for what awaits you by watching this short video produced by Discover Carmarthenshire making it really come to life! You can then decide whether to take the longer or shorter walk.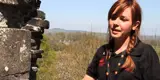 Starting at Llandeilo Town Centre passing St Teilos' Church and on to the Dinefwr Estate which has been described as taking a step back in time with its iconic Deer Park and White Park Cattle who have been at this stunning location for at least 1,000 years. Explore the National Trust, Newton House built in 1660 whilst there with gardens designed by none other than Capability Brown who said "I wish my journey may prove of use to the place, which if it should, it will be very flattering to me. Nature has been truly bountiful". 

Enjoy, and when you come back to the Plough, we'll be waiting with a warming tea or coffee, or how about a scrumptious afternoon tea! 
Get in Touch
Our friendly and helpful team are waiting to answer any queries you may have or take your booking.