The support from our online followers over the past month has been tremendous.  Whilst we are all going through this difficult period, your comments and words of encouragement have helped us get through this and for that we are truly grateful. 
We have been keeping you updated with what our team are up to and giveaways, however we want to extend our offering to launch a series of discounted eVouchers.   
These will allow you to purchase online for you to use when we reopen or for you to gift to friends and family who are having to celebrate their birthdays and anniversaries in isolation or even just to say 'I'm thinking of you!'   
AVAILABLE TO PURCHASE UP TO 13TH JULY 2020
Vouchers Available:
Terms & Conditions
Vouchers can be redeemed once the hotel & restaurant have reopened.  Please keep an eye on our Facebook page for updates
Vouchers cannot be redeemed against takeaways. 
Advance booking is necessary when using any gift vouchers. Please call us on 01558 823431 to make your reservation once the hotel has reopened.   
On booking you will need to quote your voucher number as reference.   
On arrival please present your voucher to a member of the team.    (You can either present a printed version of your voucher, or show us your voucher via your phone or tablet)   
Vouchers are non-refundable and no refund will be given for part-use.   
Vouchers are valid for a minimum of 12 months from date purchased. 
Cannot be used in conjunction with any other offer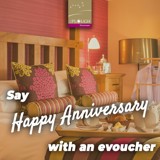 Get in Touch
Our friendly and helpful team are waiting to answer any queries you may have or take your booking.