Welsh National Wedding Awards, November 2015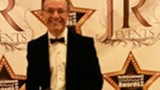 We won Best Wedding Venue for West Wales at the Welsh National Wedding Awards last night - we are all thrilled to receive this for the second year running. Thank you to our fabulous Brides and Grooms - as always it is an absolute pleasure to help you all plan your special day, and also a huge thanks to my team without their hard work and dedication this award would not be possible.
Lots of Love from Andrew and all of the team xxxx 
More information:
Get in Touch
Our friendly and helpful team are waiting to answer any queries you may have or take your booking.