Six Nations at The Plough this February & March 2023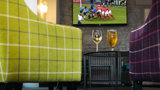 Join us this February & March for the Six Nations.
Showing all Welsh games in our lounge with complimentary cawl served at half time. Pre-booking your table is essential.
Saturday 4th February - vs Ireland KO 2.15pm
Saturday 11th February - vs Scotland KO 4.45pm
Saturday 25th February - vs England KO 4.45pm
Saturday 11th March - vs Italy KO 2.15pm
Saturday 18th March - vs France KO 2.45pm
Reserve your table by calling us on 01558 823431
Get in Touch
Our friendly and helpful team are waiting to answer any queries you may have or take your booking.