Recognition of excellence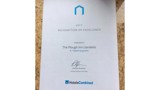 The Plough has just been awarded the Hotels Combined Recognition of Excellence for 2017 in the UK & Ireland
Hotels Combined recognize The Plough Inn Llandeilo amongst the best hotels in the United Kingdom
for 2017. 
The Plough Inn, boasts a high satisfaction rating among guests and travel industry experts, receiving 623 reviews for an impressive rating of 9.1 out of 10.
The property manager said:
We are so pleased to have received this amazing rating, it really shows how our customers value our hard work and service. 
"We are thrilled to be working with the best hotels in the United Kingdom and The Plough Inn Llandeilo is certainly among them" said Paulina Krolikowska, market manager of Hotels Combined United Kingdom.
Get in Touch
Our friendly and helpful team are waiting to answer any queries you may have or take your booking.