Merry Christmas from all at The Plough!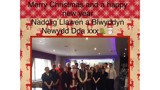 We have had a wonderful festive season welcoming guests enjoy their Christmas parties- we Thank all of you for choosing The Plough for your celebrations and look forward to welcoming you all in 2017. Nadolig llawen a blwyddyn newydd dda!!
Get in Touch
Our friendly and helpful team are waiting to answer any queries you may have or take your booking.