Gwili Railway Volunteers raise funds by washing customers cars at the Plough on 22nd July 2018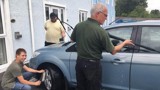 The Gwili Railway and their volunteers who attended the Charity Car Wash would like to thank the Plough Hotel Rhosmaen and their staff and customers. Scott Artus, Sarah Artus, Dewi Jones, Mike Sarsfield, Dyfan, Christine and Dave Harrison were the Gwili crew washing the cars and talking to customers about the railway and the shed appeal.

The team turned up on Sunday armed with their Jet Wash, buckets and sponges and primed ready to clean the cars of the Plough's Sunday Lunch customers. They managed to clean 20 cars in four hours raising £96 pounds for the shed appeal. With a combined age of 340 and aching arms the team soaped, wiped and jet washed their way into the hearts of the loyal Plough customers. 

They are looking forward to the next fundraiser in November when they will be raising the next stage of funding for the shed appeal with the kind help of Andrew and his team at The Plough.
Get in Touch
Our friendly and helpful team are waiting to answer any queries you may have or take your booking.