Walk Around Carreg Cennen
The imposing ruin of Carreg Cennen Castle standing high above the river on a sheer cliff is now the haunt of Ravens and Crows. This picturesque setting is the natural focal point for the start of the walks detailed here.
The site was a Welsh stronghold long before the English Lords recognised its strategic importance and decided in the 13th century to build their Castle. The original castle was built by the Welsh Princes of the old kingdom of Deheubarth, most notable amongst these being Lord Rhys ap Gruffudd, who won back territory from the Norman invaders. In 1462, shortly after the War of the Roses, the existing medieval castle was largely destroyed, as it was deemed too much of a threat to the monarchy.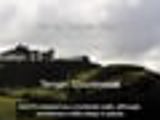 The outcrop of rock on which the castle stands is an outlier of Carboniferous Limestone set amongst the more ancient Old Red Sandstone. The immediate area around the castle is agricultural land used mostly for rearing sheep and cattle. It is a charming patchwork of wooded valleys, small fields and hedgerows. This however, soon gives way on the southwest to the Black Mountain with mile upon mile of windswept, high ground where barely a tree interrupts the view. This rugged landscape is used for grazing hardy sheep and wild ponies.
The area of woodland skirting the castle on its south side is important for nature conservation and has been designated as a Local Nature Reserve whilst the rock itself is a Geological Site of Special Scientific Interest.
Although the ragged outline of the castle dominates the skyline and grabs the attention, there are always other things of interest to catch the eye. The walks pass through a variety of habitats important for wildlife. Shady Oak and Ash clad hillsides change to river valleys where tumbling streams run into fast flowing rivers lined with Alder, Birch and Willow. The tree, flower and shrub communities change as the underlying rock changes from Limestone to Sandstone and the insect and bird life varies from season to season. A visitor to the area is just as likely to see a colourful little Gold Crest, Wales's smallest breeding bird, as they are to see its largest bird of prey, the Red Kite.
For further information regarding this walk, visit the Discover Carmarthenshire website
Get in Touch
Our friendly and helpful team are waiting to answer any queries you may have or take your booking.