(Save paper and download the voucher to show on your phone)
20% off in 2020
We are rewarding all of our Club Select members with this fabulous discount to start 2020
20% off all food, drink & rooms during Jan, Feb & Mar 2020*
Read more about Club Select here 
*Terms and conditions apply. Some dates excluded from offer. 
Terms & Conditions
20% off is for members subscribed to our Club Select mailing list.
Members must remain subscribed to ensure they receive their voucher on 2nd January.
20% is on food, drink and rooms and cannot be used in conjunction with any other offer including events, late deals and packages (including our Show & Stay package). 
Exclusion dates – 3rd January/ 16th January/ 14th February/ 21st February.
Please refer to current room prices via our online booking system.  
20% is only valid for new bookings and rooms booked up to and including 31st March 2020 (Exclusion dates – 3rd January/ 16th January /14th February /21st February)
Vouchers can be used multiple times.
Customers using the voucher maybe asked for their membership email to valid their voucher at anytime.  
Food & Drink - The voucher is valid from 2nd January to 31st March 2020, Sunday evening to Friday lunch time only, applies to a maximum of 8 guests per booking.  Please mention on booking your table that you will be redeeming the Club Select 20% voucher.
Rooms - To make a booking, please call us on 01558 823431 as voucher is not valid online.  Quote 'Club Select 20%' when booking and provide us with the email associated with your Club Select Membership.
Events - This offer is not valid for our 2020 events including the Show and Stay package 
Management reserve the right to amend or withdraw the offer without notice.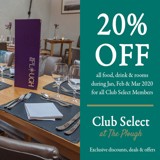 What is Club Select?
Club Select is a group for our customers to get access to exclusive discounts, offers & deals.  The aim of the group is to reward our loyal customers and followers.  
What type of offers, discounts & deals will I receive?
Club Select members will have first access to all offers and deals, including last minute availability too.  Occasionally we will post limited time offers and discount codes that will only be available to Club Select members.  To ensure you get these deals, ensure that your notifications are turned on for the Facebook group and you list our email as a contact in your email provider. 
How can I be a part of Club Select? 
In order to be part of our Club Select you will need sign up to our Club Select mailing list here 
How will I find out about the Club Select offers?
All offers will be sent out to those on our mailing list and featured in our VIP group on Facebook Club Select at The Plough Facebook Group
Get in Touch
Our friendly and helpful team are waiting to answer any queries you may have or take your booking.