Celebrate your future marriage in style with a BRIDAL SHOWER here at The Plough Rhosmaen, Llandeilo. 
Bridal Showers are a great way to involve friends and family of all ages in the celebration of your future marriage.
If you've been tasked as organiser of all the fun, then The Plough is a fabulous venue for the party antics!
We have several private areas which you can book for exclusive use at no extra charge, such as our Conservatory or 'Penlan' where you will have the opportunity to decorate to suit your taste or experience The Ultimate Bridal Shower. Ideal for those living outside of the Carmarthenshire area!  (details below)
Choose from our Afternoon Tea Menu:   
Welsh Afternoon Tea £22pp
Appetizer, selection of finger sandwiches, homemade scone, traditional Bara brith, selection of homemade cakes served with cream, homemade fruit compote and a pot of tea for one [C]
Sparkling Afternoon Tea £27.50pp
Welsh afternoon tea for one with a glass of Prosecco [C]
Vegan Afternoon Tea - £22pp
Appetizer, selection of finger sandwiches (hummus and red pepper, roasted vegetable and pesto and cucumber and cashew butter), homemade scones (non-dairy butter and fruit compote), coconut and lime cheesecake, lemon posset, toffee and pecan pudding, exotic fruit kebabs with raspberry coulis.  Tea and coffee.
Children's Afternoon Tea £13.00pp
For your younger guests: Ham & carrot cream cheese wrap / Jam sandwich /Egg & cress wholemeal sandwich / Orange & white chocolate profiterole / crème caramel / Chocolate brownie / Gingerbread man / Homemade scone / Fruit compote & clotted cream & one of the following drinks: Chocolate/strawberry milkshake, orange/blackcurrant fruit shoot, babyccino, hot chocolate, orange/apple juice or Pepsi/lemonade [C][V]
A range of Cocktails are also available
To book your Bridal Shower at The Plough, call us on 01558 823431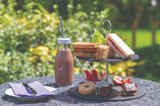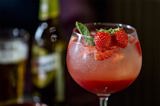 The Ultimate Bridal Shower
Create the Ultimate Bridal Shower with your closest friends and family, stay the night in our three-bedroom apartment
(includes Overnight Stay, Afternoon Tea & Breakfast or Brunch)
Whether you choose to spend the time relaxing or planning finer details of your special day, our 3-bedroom apartment with lounge will be the ideal space for you and your bridal party!  
Based on a minimum of 4 guests sharing with a maximum of 6. 
£80pp
Read more about our apartment here 
Includes:
Overnight stay (Min 4 Max 6)
Bottle of Prosecco on arrival
Welsh Afternoon Tea
Access to Netflix on our SmartTV*
Complimentary access to our gym and sauna
Room service until 10pm
Breakfast or Brunch
Late check-out by 12pm*
To book The Ultimate Bridal Shower, call us on 01558 823431
Terms & Conditions
*Late check out is subject to availability 
*Please note, only the SmartTV in the communal area of the apartment has access to the Netflix app.  Customers will have access to the app and internet streaming, however, customers will be required to log into their own Netflix accounts.
Get in Touch
Our friendly and helpful team are waiting to answer any queries you may have or take your booking.